Alzheimer's Disease & Dementia Care Training and Consulting
You can become a Certified Dementia Practitioner!
Alzheimer's Disease and Dementia Care Seminar
Take the path to certification as a CDP Certified Dementia Practitioner through the National Council of Certified Dementia Practitioners by attending the Alzheimer's Disease and Dementia Care Seminar. This is the required seminar for those who quality and pursuing certification as a Certified Dementia Practitioner CDP or you can attend for the knowledge and education. To see if you qualify for CDP certification go to NCCDP WEBSITE www.nccdp.org
National Council of Certified Dementia Practitioners
International Council of Certified Dementia Practitioners
"Worldwide Leader in Dementia Education and CDP Certification for Healthcare Professionals"
Who should Attend:
All health care professionals and front line staff who work in all aspects of the health care industry. Also, appropriate for caregivers and family members. Anyone interested in attending will find this event to be the most comprehensive Alzheimer's Disease and Dementia care available.
NCCAP approved for 7 CEUs for Activity Professionals.
This seminar is also approved for 7 Continuing Education Units (CEU's) by the North Carolina Department of Health and Human Services in Assisted Living Facilities.
Nursing CE Contact Hours are available through CEU Network. Course approved for 7 CEUs. CEU Network fee is $28.00 and the information will be provided in class. You do not pay for the CEUs at the time of registration, it will be done through the CEU Network.
Nursing CEUs are approved for AL, AK, AR, CA, DE, FL, GA, IA, IL, KS, KY, LA, MA, MI, MN, NE, NV, NH, NJ, NM, NC, ND, OH, PA, RI, SC, TN, TX, UT, VA, WA, WV, & Washington, DC.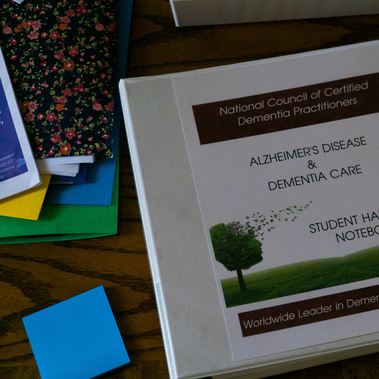 Alzheimer's Disease and Dementia Care Seminar Modules
Introduction to Dementia: Diagnosis, Prognosis, and Treatment
Communication and Feelings
Depression and Repetitive Behaviors
Delusions, Hallucinations, Hording, & Wandering ( Walking Behavior )
Aggressive Behavior, Catastrophic Reactions, Intimacy, and Sexuality
Personal Care: Pain, Bathing, Dressing, Toileting, Nutrition, Falls, and Sleep Disturbances
Activities
Environment
Staff, Family Support, Abuse and Neglect Prevention
Diversity and Cultural Competence
Spiritual Care and End of Life Issues
Do the best you can until you know better. Then when you know better, do better.
-Maya Angelou